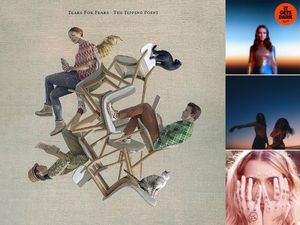 I'm back with my recommendations of some of the best music I have discovered in recent months. If you are looking for something new to listen to then this is the place for you. This issue includes new tracks from Tears For Fears and Sigrid as well as new artists Tommy Lefroy and Morgan Wade. This time I've collected a range of styles for you to check out so lets dive in. 
Tears For Fears - The Tipping Point (Album) 
I was first introduced to Tears For Fears through their hit tracks Shout, Seeds Of Love and Everybody Wants to Rule the World many years ago. The distinctive smooth vocal of Curt Smith and heavy use of the synthesiser always made them stand out to me, on top of their trend of writing great songs. Now in 2022 they have just released their first new material in 18 years, and it's exactly what you would want from a modern Tears For Fears album. Their easily recognisable sound is still there but feels updated with new recording technology giving the synth a crisp edge. The vocals are unfaltering, with Curt Smith seemingly unaged, reaching head voice with ease. Each song has a unique appeal to them, and it's clear Smith and Orzabal put every effort into this album, despite the long journey, as it was initially conceived in 2013. It is evident in the lyrics of Long, Long, Long Time "The higher the mountain, the harder the fall" and No Small Thing "I've just got one more song to sing, one more story to tell" that their journey has not been an easy one, but I truly hope this isn't the last "story" they tell. It is a triumph of a past artist returning and proving they still have something to offer. Mr favourite tracks from the album are the titular The Tipping Point and final track Stay, resonating with me as a songwriter who loves minor based melodies. This is a must listen for any fans of the 80's or pop music in general. 
Sigrid - Head On Fire/It Gets Dark (Singles) 
One of my favourite emerging artists of the late 2010's was Sigrid, a Norwegian electropop singer/songwriter who intrigued me with her 2017 single Strangers. I fell in love with her debut album Sucker Punch, I even covered the title track with my band for a while, and she has not failed to stop impressing me. This year Sigrid joining with previous recommendation Griff for their single Head On Fire; a heart pounding anthem that pairs the upbeat synth based melodies of Sigrid with the RnB inspired rhythms of Griff. It's impossible not to groove to. Their voices blend perfectly with Sigrid providing a soft sweet tone that allows Griff to punch through with a smooth lilty pitch. This isn't the only single Sigrid has released this year, she also dropped It Gets Dark ahead of her second album How To Let Go which releases in May. This song truly demonstrates her vocal range effortlessly gliding between notes in the opening verse before taking on a harsher drier tone in the chorus. The song itself has elements of alternative 80's tracks, especially present in the bass line at times. As the third single from the upcoming album following Burning Bridges and Mirror, it sets a precedent that this will be a release to watch in 2022. Sigrid has mentioned she wrote this record for festivals and big stages. If you are wanting a soundtrack to your summer this is the album to jump on. 
Tommy Lefroy - Flight Risk (EP) 
Tommy Lefroy was a band I discovered through a suggested instagram reel in late 2021 and they have quickly become my latest musical obsession. A blend of genres and geographical perspectives, they create a unique romanticised indie folk/soft rock sound. Taking their name from a lover of Jane Austen tells you everything you need to know about their mission - to appeal to the dreamers. Their debut EP establishes their beautiful soft harmonies, guitar heavy riffs and dark but emotive lyrics. Often preferring the method of 'less is more' in their overall sound, works exceptionally in their favour highlighting Bethel and Mouzourakis's quiet but untameable vocals. My personal favourite songs from the EP are the moody Knievel and Vampires, which features the brilliant emotionally lifting lyric "you can fall in love a thousand times, I just want for you to love your life". Recently selling out a show in London and soon to be appearing at The Great Escape festival Tommy Lefroy is a band for your radar, especially if you are interested in transatlantic artists. 
Morgan Wade - Reckless (Album) 
If you have been listening to any country station or national radio you have probably heard Morgan Wade's Wilder Days. This song is what initially attracted me to the singer with a fantastic vocal and unique lyrics. The deliberate choice not to rhyme in Wilder Days' chorus lines "You said you hate the smell of cigarette smoke, you only used to smoke when you drank", is just different enough that it immediately catches your ear and I knew I had to check out the rest of her discography. So I found Wade's album Reckless which by this point had released a deluxe version and it did not disappoint. Country has recently becoming more and more popular with some of my favourite songwriters coming from the genre (including Chris Stapleton and Maren Morris) and Wade easily joins their ranks. Her honest lyrics drawn from personal experience create a rich picture that is relatable even if not experienced by all. As mentioned she has a incredible dry and thin tone to her voice that is unmistakable and sets her apart from many other artists. My personal favourite songs from the album are Other Side, a track that has brutal truths in its lyrics but hides them behind an easy listening composition, and Met You which strips Wade right back to just a guitar and her vocal, a rawness that is a refreshing sound in the world of music. I can see Wade being a big name in country circles going forward, so for any fan of country, old or new, this is a great new album that you will love. 
Let me know if you check out any of these suggestions, you can contact me via instagram @samnixmusic. I try to cover something for everyone and I am always open to recommendations myself. I also have a Spotify playlist of my favourite tracks in 2022 including the tracks suggested here as well a bunch of other hidden (and unhidden) gems. You can check it out here - https://open.spotify.com/playlist/3ZHfsmqvQsWgQGCZW7ZsrA