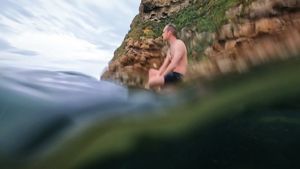 As a songwriter, one of the most fascinating things I find is listening to other artists talk about the stories behind their songs. It brings the songs and lyrics into a whole new light as well as giving you an insight into the writing process. Similarly, I love talking about songwriting as it's a creative medium with a lot of nuance and so much to explore. As such, I wanted to give you an insight into each of my songs from my debut EP 'From the Stars Above'. This post will cover Treading Underwater, my Americana inspired track and the rest of the EP will be covered throughout the coming months.  
Growing up surrounded by a wealth of genres I had a great insight into different types of music. One type of style that attracted me was Country/Americana. For me, it featured the perfect balance of acoustic and electric instruments as well as having some of the most heart breaking (and heart lifting) story telling in music. Across the years, I have found my preferred artists in those genres, including Chris Stapleton and Wild Rivers, allowing me in turn to pick specific characteristics to influence my own work. This brought about Treading Underwater.  
I knew for a long time I wanted to write a "country" song or along those lines, although Treading Underwater lyrically is not a traditional Country/Americana song. Written in the middle of 2020, I wrote about what I knew at the time - feeling overwhelmed and lost. We were in the middle of the pandemic, not sure in which direction we would turn next, and in my head, I drew the comparison to a lonely traveller. The lyric "taking directions from the stars above" which went on to become the EP's title, infers that the storyteller has nothing to guide them apart from their only constant - the sky. The chorus lyrics and title "Treading Underwater" then highlight how even with the sky to guide them, the traveller feels feckless, as there is no ground gained. Which, while hyperbole was how I felt, and I'm sure many others did, for a time in 2020. I knew at this point, with the imagery I had conjured up, it was my chance to pay homage to those genres that had given me so much thus far. 
Drawing from modern Americana/Folk artists like Jade Bird, Mumford and Sons and The 502's I used a rhythmic strum pattern to evoke the feeling of movement and a strong constant. The pattern also harks back to the rhythms of classic country and western songs such as Folsom Prison Blues and Jolene. I also kept a simple structure at first, again trying to translate that rustic vibe into my own songs, not only with this track but I also used the technique on many future songs as a starting base.  
When I came to record the EP, everything had to be upped a level from just a vocal and guitar. My producer and I added a rolling snare, a muted electric guitar, and harmonies reminiscent of western soundtracks between sections of the song. We also saw the chance to make the structure more interesting, adding a post chorus where I draw out syllables in my performance and alternate between 2 chords to really drive home the disorientation and feelings of being adrift. The repetition in the outro, combined with the alternating chords carried on from the post chorus, again emphasises the absence of actually moving forward as noted in the chorus.  
During recording it was the most interesting track to experiment getting a full sound with. Throughout the 2 weeks there were many different versions and ways it could have ended up. To me it is still the track that could be reinterpreted musically because Country/Americana are so vast as genres. You have the rock heavy elements from artists such as Eric Church down to the gentle ballads of Gillian Welch. Still to this day, when performing solo, I take liberties in how I play the song, changing emphasis on certain words or attempting different dynamics. Maybe one day I might revisit the song and re-record in a completely different way a la Joni Mitchell and her orchestral version of 'Both Sides Now'.  
If you found this dissection of my song 'Treading Underwater' interesting let me know! You can message me on Instagram and Facebook (@samnixmusic) or through my contact page on the website.