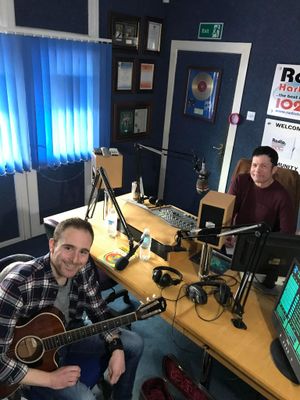 As a songwriter having released a debut EP, and a brand new single (A Girl I Met On The Tube Last Week debuted on all digital platforms October 7th 2022) I have learned a few lessons in the trade that have helped my music reach more people organically. When starting out as a musician you want to reach as many people as quickly as possible and often acts think the way to do that is by sending their music to the big leagues. Unfortunately, there are about 200 dozen other new acts doing the same thing meaning the big radio and media companies are inundated with new music and only a small amount of feature space. So, if you can't ensure that you'll get a slot on national radio or in magazines how can you grow your followers? Well, that's what I'm here to share… 
Before I start, it is important to still send your music into BBC Introducing etc because if a DJ or writer likes your music, they will play it and that's a chance you can't pass up. However, once you have done that, there is an entire market out there that wants to hear your music. That is the world of local media. Before I released my debut EP 'From the Stars Above' I was aware of a few local stations and newspapers, but it wasn't until I asked around my eyes were opened to the vast network in my area alone. In the Northeast there are over 25 radio stations excluding the local BBC. Additionally, there are the numerous newspapers and not for profit magazines that run reviews or interview features. With each media outlet there will be a new person exposed to your music.    
Not all, but most local radio stations are happy to feature new music especially if that music is from someone in the area. You will find that many people listen to local radio for updates and news that are more specific and therefore will also likely be interested local artists. The same applies for written media. In my experience it is important to grow where you are before trying to expand, as not only do you gain experience but also a significant following that doesn't go unnoticed once you decide to break big.  
Before you start sending out press releases to every smaller outlet in town and across the country, it is important you do your research. If you're an acoustic artist sending music to a dance station, it's unlikely they'll play your track, and you may have wasted time. If a media outlet doesn't do the kind of feature to promote music or local happenings, then it's not a wasted contact but something to keep in mind when you draft up your emails. Look up online examples of press releases and enquiries so you know you are, including the relevant information and being professional about it. The last thing a person wants to do is scroll through paragraphs of information they don't need. If you don't get a response first time round, you should always follow up in case they missed your message. 
Above all, be polite. If you are rude there is little chance of a response. A lot of local media are doing the work because they love what they do, and discourteous emails is the last thing they need. Friendly, respectful communications also bring you a lot of goodwill so that if you want to promote a future release, they'll be happy to have you back for an interview or to play your next track. 
It is undoubtedly a lot of work and effort but if you really love your music then you'll make time and put in the hours. It's never just writing a simple email and pressing send. Do your background checks and follow up, eventually it will pay off and you should see your social media numbers and digital streams go up. It'll also helps if you are approached by a producer or label as they'll be able to see you haven't been lazy and truly put the work into promoting your releases.  
I hope this blog has helps any up-and-coming artists and you'll start searching up local stations and outlets. I would not be where I am without the kindness and help from local DJs and journalists. If you liked the blog and want to check out more of what I do you can follow me on Instagram, Spotify, Facebook and Twitter - @samnixmusic. My new single 'A Girl I Met on The Tube Last Week' is available now on all digital platforms.