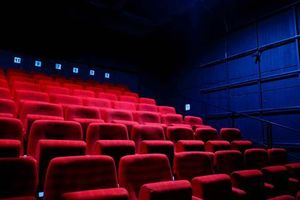 [Source: Shutterstock]
For me music and film come hand in hand. They are my two great passions and in truth film wouldn't be the same without music. Over the years I have seen many films that employ the music to its strengths [see my Ennio Morricone tribute], but three films more than any other stand out to me. Those films are Once, Begin Again and Sing Street. They are all helmed by director John Carney, a director who doesn't just employ music but celebrates it within his films. So I thought I would tell you how these 3 "modern musicals" have influenced me and why you should give them a watch.  
Now I call these three films "modern musicals" because in a sense they are very contemporary from what you might expect. In all three, Carney approaches the music by having it as a natural element of the story rather than weaving the plot around big numbers a la 'Mama Mia'. It's a technique that has been used for years as far back as Judy Garland's 'A Star Is Born'. Very much in the same vein as 'A Star Is Born' these films all centre around a musician/musicians. Carney himself used to be a bassist so knows the ins and outs, and it's what immediately attracted me to them. The first of the films I heard about was 'Begin Again' (released in 2013), when looking over projects of lead actor Mark Ruffalo. It wasn't long before I found myself a copy and fell in love. The story is about Dan (Ruffalo), a struggling record label executive who discovers singer/songwriter Gretta (Keira Knightley) and is impressed by her fresh songs, so they pursue recording a low budget album in the streets of New York City. It's a feel good film and has many nuances alluding to the ups and down of the music industry. As a singer/songwriter myself it is a bit of a dream for this scenario to happen, though very unlikely. However as a young kid this was something to aspire to. It gave me hope towards being an artist. Not only was it inspiring but there are some genuinely beautiful sequences that really stuck with me. Particularly one scene where Dan and Gretta walk about the city, in and out of night clubs, each wearing a pair of earphones and a splitter listening to Gretta's personal playlist. Completely ignoring the distracting sounds around them, they bond over the fantastic music they are listening to. It shows how music can transport you to a whole different place, changing the context of your surroundings. The film constantly reminds me why music is such a passion for so many and still inspires me to reach for my goals as you never know what might happen. On top, the original songs are really catchy.  
Soon after watching Begin Again I looked up Carney and found Once. Once is from 2007, made on a budget of only £112,000 and filmed on a skeleton crew. As a film enthusiast the indie nature of it drew me in further. Upon buying it, I yet again fell in love. This above the rest is truly a musicians film, because of it's down to earth story and heavy focus on small time artists. Centred around the relationship between "Guy" (Glen Hansard) a struggling musician and "Girl" (Markéta Irglová) a young Czech flower seller, they bond over their shared interest in music to produce an album for "Guy". While romance is undoubtedly where the bulk of the story lies, it also shows yet again how powerful music can be, bringing these two characters together despite the differences between them, and wonderfully using songs to explore the relationship as it grows. I particularly identify with Hansard's character knowing what it's like trying to make money where I can with my music, as will many others, and the essence of keeping the two lead roles so vague allows many to relate. Because their names don't matter, the focus is put on the connection between them, the story they tell and the music they share. Capturing the mood of struggling musicians and how music lifts them is so well written, making it a fantastic watch, but don't just take my word for it. Since it's release it has won Best Original Song at the Academy Awards as well as being so successful that it later had a stage adaption that then won the Tony award for Best Musical.  
The latest film Carney has produced is Sing Street. Slightly different to the previous two it is based around a school boy, Connor (Ferdia Walsh-Peelo), who to impress a girl, Raphina (Lucy Boynton), starts a band with having little to no musical experience. It is a heart-warming, uplifting coming of age film that anybody can connect with. It speaks to me as music is Connor's out, It's how he expresses himself. For many artists like myself, music is a way to manifest feelings and the film nails that process. Set in the 80's the soundtrack features bands like Duran Duran, The Jam and The Cure and really is a tribute to that era and the music that came out of it. The band begins to explore the diverse genres around at the time, while trying to find their own style, really stating how iconic the 80's were and how important it is to not just follow suit. It's a masterclass in showing if you have the drive you can do anything, something everybody needs to be reminded of time to time. A thoroughly enjoyable film, that commemorates the music of the 80's and the experience of growing up in the middle of it all, which I wholly recommend.  
Collectively the three films show how music connects people, how it drives people as well as how fun it can be. These films celebrate all sides of music as well as showing some of the unseen sides of musicians and the trials and tribulations they face, whether it be struggling against the tide like in Begin Again and Once, or trying to find your own distinct style like in Sing Street. Each film appeals to me in a different way and will appeal to other people for disparate reasons. Not only do they celebrate music but by being "modern musicals" it makes the genre more accessible. People who don't enjoy the beaming tail feathers of a traditional musical, might find enjoyment in these, which to me is a win. To this day Carney is one of my favourite film makers due to his unique approach and inclusivity of music in his work. His films have left a huge impression on me as a budding singer/songwriter, an impression that I will take with me through my career. So if you enjoy music and film, these should all be on your watch list.