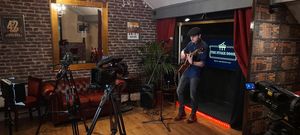 The past year has been a strange experience to say the least. The live entertainment and hospitality industries were stopped in their tracks, seemingly putting an indefinite hold on many artist's lives. As a singer-songwriter I was very much included in this pause. During this time I have faced many difficulties and yet been given as many opportunities, so I thought I'd share my experience and give you a bit of insight into what it's been like for a singer-songwriter. 
First and most obvious, being that I have had no gigs. Though not the worst thing in the world it certainly took away a pillar of my career. Before lockdown gigs were one of the main ways I could earn money and get my music out there. It's how I would meet other musicians and make contacts.  More than anything else, not being able to perform live has been the hardest hurdle to overcome. There are obviously ways of making contacts through social media but it's hard to do so where there are no gigs to showcase your talent. This meant my only option was to research venues, producers and studios so that now restrictions are easing, I can begin to reach out to the contacts I have found. However, for a few months that area of my career was almost non existent, which was disappointing to say the least. 
Busking comes under this banner as well. Busking is a brilliant way of attracting public attention to your music because it is free for you and them. Again, for obvious reasons, it was shut down. Once more I was disappointed because busking is a chance not only to present your songs but to practice in front of an audience as well. While playing, I could perform new songs, judge the general reaction and then go back and adjust set lists for future gigs. Now I have a bunch of new songs lined up ready to be played, unsure whether they will work or not. On the upside, there a bunch in my back catalogue that I will have to test out when I get back on the streets. 
This brings me on to one of the opportunities that lockdown did present and that was the chance to slow down and focus on my writing. As I mentioned in my previous blog 'My tips for first time songwriters' a key part of songwriting is constantly learning new techniques, which is how I invested the time given to me. I began reading books on how to improve my lyricism and my vocabulary, as well as sitting down and improving songs I already had. I could finally enhance that one verse in the song that always bothered me. I could explore deeper meanings and themes that I hadn't thought about writing before. As a songwriter this time was gold dust. Away from the hustle and bustle that came with a busy day to day life I could focus for a bit and now I'm ready to go with 2 albums worth of new songs! 
This break wasn't just useful for songwriting but also for evaluating my career so far. As noted, I could research contacts to make when everything opened up but I could also plan how to progress as well. I wrote down what I wanted to achieve and began figuring the steps I need to take to get there. While lockdown hindered the process, as I couldn't get out the house to make those moves, at the same time I was making more progress than I had ever done before. I set up this website, streamlined my style and looked back on what hadn't worked before so I could learn from my mistakes. As someone who is only just starting their career, while frustrating I can't just get on with it, this gave me a once in a lifetime chance to emerge from it all and hit the ground running. It wasn't just myself I could evaluate but other singer-songwriters too. What made them successful? How could I replicate that while maintaining my own distinct style. Coupled with hours and hours of practice, I constantly improved my opportunities to succeed. 
While beneficial, it also became increasingly frustrating that I can't just "get out there". As a creative performative mind I can't wait to go out and play, I just have to be patient. I also have to accept that while lockdown has given me the chance to improve it doesn't mean I will automatically be successful. Things take time and this past year has certainly proved that. I'm hoping  the better focus I have had will benefit me once we get back to normal and that, however annoying and restricting lockdown has been, in the long run it will also have given me the time to plan and prepare for my future career. All I can say for now, is wait and see. 
Latest Blog Post: Three modern musicals you should watch
Upcoming Events: https://samnixonmusic.com/events
Youtube Channel: SamNixonMusic
Facebook Page: @samnixonmusic