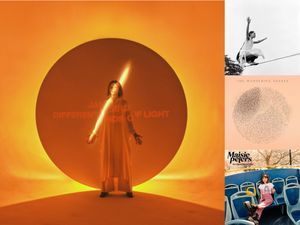 Have you been looking for music to dive into and spice up your playlists?  Well, I'm here to recommend some of my favourite new albums for you to enjoy.  In this new blog series, I will be sharing with you some of the best albums I have heard recently and giving my two ounces on them. This first post includes the debuts of Maisie Peters and Griff as well as the sophomore albums from Jade Bird and The Wandering Heart.  So, sit back and let's have a look.  
Maisie Peters - You Signed Up For This (Album)  
This debut album from Maisie Peters is something I have been waiting on for a while. Ever since hearing her song "This Is On You" on the radio in 2020, I have been following this promising performer. Her music is a wonderful blend of light acoustic melodies with electronic lifts and a little bit of emo heartache scattered in. What makes Peters stand out is her uniquely sweet and clipped voice, giving a wonderful bounce to her songs, especially those such as "Psycho", the titular track on "You Signed Up For This".  By far, my favourite track on the record is "Boy", which pops out at you on first listen and only gets better. It's got a ton of style with influences of R'n'B matched with the classic British no-nonsense attitude in the lyrics. It reminds me of some of the work from Ed Sheeran's second album, "Multiply", which would make sense as Peters has just been signed to Sheeran's own record label. As a young singer-songwriter myself, I can appreciate the way the lyrical content captures, so well, that moment in time when, for the first time, a young adult experiences break-ups, betrayals, love and friendship, that I may take a few lessons from it. All in all, if you like upbeat electronic-songwriter bops that you can listen to in the cool British summer, then this is a must buy.  
Griff - One Foot In Front Of The Other (Mixtape)  
Staying with the same lines of up and coming pop artists, Griff is a singer-songwriter, based more in the dance genre and whom I first heard of after she was declared the 2021 Brit's Rising Star. Her leading single, "Black Hole", has a pumping rhythm behind it, and a hook so infectious you'll find it hard not to sing along. What sets Griff apart, and why she deserves that rising star award, is her unusual trick of blending the dance based electronics with (almost) theatrical melodies and vocals. Her steely tone control and wide vocal range wouldn't be out of place in a musical, yet fits so sublimely here. The titular song "One Foot In Front Of The Other" really stands out and shows off the amalgam that she has created. It also highlights some of the individual sounds found cropping up across the mixtape, most notably the synth and electronic drum kit. As a real star to watch for in the future, I would definitely recommend this whole set of songs.  
The Wandering Hearts - The Wandering Hearts (Album)  
Now The Wandering Hearts have been around a few years, have already released a debut album and gone through a line up change. Their latest self-titled follow-up demonstrates perfectly, why they are so good. They are a band for lovers of country, particularly the British country scene, but that shouldn't put you off. The songs on this record range from incredibly catchy and uplifting, such as "On Our Way", to tear-jerking and relaxing, like my personal favourite, "Dolores". Do not worry if you aren't the biggest fan of the "three chords and the truth genre" as this album strays away from the more commercial angle of traditional country and really explores their songwriting talents. Delving deep into the rich American country soundscape, heavy drum toms accentuate the rhythms and acoustic guitars to act as the solid grounding for the harmonies to dance upon. In truth their harmonies are really what shine through here, giving them a distinct sound - a dry male voice and two soulful female high tones. In a way this album feels like a triumph. Many of the songs are based on the idea of working together and achieving, something they have clearly done here. It's a fantastic follow-up that develops everything from their first outing and gives an indication of the musical direction they are heading in. Easily one of my favourite bands of the last five years. So go check it out! 
Jade Bird - Different Kinds Of Light (Album)  
Finally, my most anticipated album of this year is Jade Bird's "Different Kinds Of Light". The moment I discovered her music through a youtube video, I fell in love with it: part punk rocker, part Americana road trip. This follow-up release, like The Wandering Hearts, progresses Jade Bird's style, stepping into slightly alternative waters with a distorted guitar and sliding minor melodies on tracks like "1994" and "I'm Getting Lost". However, it still keeps that core Americana singer-songwriter quality in the personal tracks, "Houdini", "Different Kinds Of Light" and "Red, White And Blue" each sung hauntingly by Bird. It's a seamless ride, each track blending into the next with little effort, it's so wonderfully crafted. It's hard to pick a favourite track as I tend to be a fan of the slower more heartfelt tunes, yet the punchy guitar riffs of "Headstart" and "Open Up The Heavens" really grab the  attention. In the end, it comes down to "Now Is The Time", the 10th track, as my top pick. It walks in the footsteps of the likes of Bob Dylan and Neil Diamond with its free rolling 'blue jean' lyrics. At the same time it brings something completely new to the table with a light electric guitar and high tuned acoustic (playing D shaped chords I think) embellishing the cheery refrain. It has certainly been worth the wait and I shall be playing in full for the remainder of the year whenever I'm feeling down.  Especially so, seen as I'm seeing her in concert in March next year! 
I hope you find something new in these suggestions. They might not all be your cup of tea but that's the thing about trying out new music -  it's all about experimentation and maybe stumbling upon something you like!