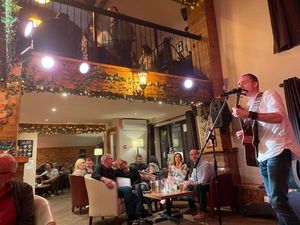 Earlier this year I wrote a blog about what lockdown was like as a singer/songwriter. I mentioned, while gigs and busking were forced to stop, it had given me a chance to focus on writing and look at the direction of my career. Now live music is back I am still focusing on those important part, but I thought I'd give you an update on where I am now in this post-lockdown climate. 
First thing to note is that i'm back playing in front of live audiences, and the reception has never been better. Gigging opportunities have been popping up almost every week, and I've seen more open mics appear than ever before. Not only is the volume of events great for musicians, who depend on this kind of work, but it's also beneficial for businesses too. I have seen bars and restaurants that are now looking for artists to play, despite not having ventured into that area in the past. This is probably because it brings more people into the venues than there might be otherwise. On top, it also encourages new artists to take the the next step forward, now there is an abundance of chances to perform. It's a two way system that seems to be working wonders for both the hospitality sector and musicians. 
As a singer/songwriter, the places I've been playing at couldn't be more welcoming. The crowds have always been supportive and the staff excited to have new music every week. It has taken a bit of time to get used to playing live again, but at every venue people have been incredibly appreciative that I'm lightening up their night with some music. Occasionally individuals have come over and had a chat after I've finished, and for me that's the best possible response. I love to get a bit of feedback and see what kind of effect my music has had. So, if you see me play in the future let me know what you think! 
There are a few changes, as covid is still around, so Mics and equipment are sanitised or swapped out after every performer. It doesn't make a huge difference, but is important to keep in the back of your mind, especially if you have to bring your own mic. As well, not all venues are back at 100% and some people are still weary of crowded areas, which is totally understandable. However progress is happening and now the vaccine is taking effect and it shouldn't be long till you see artists playing to full house on every street corner. 
Because I am playing all over the place I have also found more inspiration to write. Travelling from gig to gig, combined with meeting brand new faces has expanded my idea pool. There's been so much more to draw from, so the amount of songs I've written in the past 6 months compared to 2020 has gone up tenfold. Not all the songs are good, but it's the fact I have the stimulus to create something new. As just mentioned I am also encountering new people, people who I can collaborate with, bounce off and build new opportunities with. In lockdown while social media kept us connected, it was still difficult to reach out to other musicians and those who work in the industry. Now I have  chances to connect with those I struggled to connect with in lockdown and the platforms to show what I can do, things are only looking up. 
I am now doing what I love most; sharing my music and experiencing what other musicians have to offer too. It seems a lifetime since April when I wrote that blog, and a part of me couldn't imagine we'd be where we are right now if I tried to predict it. The responses I've come across from other artists have all been similar; they couldn't be happier out playing for people again, and in turn those watching are just as excited. So if you haven't been out to support live music yet, get out there! You can start small at a local open mic, or go to a sold out concert, whatever takes your pick, because live music is back and all the better for it.