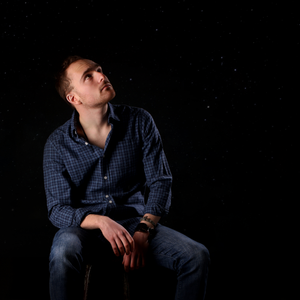 In mid 2021 I sat down and spoke to Chris 'Whiz' West, a producer who has worked with Richard Ashcroft, Status Quo, Leo Sayer and When Rivers Meet among others. It was my first time speaking with a professional producer so a daunting yet exciting moment in my career. We were talking about new music. Specifically new music from me. For some time I have wanted to commit my original work to disc but only going so far as recording demos and the odd track. This time I wanted to make something bigger, a proper debut, an EP. Chris couldn't have been more engaged and helpful in developing my idea and that's where it all started. 
I had been put in touch with Chris through a mutual friend Dave, who is incredibly supportive of live music and not afraid to get his hands dirty. I had been talking about working with a professional producer for sometime and Dave knew Chris was the perfect fit owing to his decades of expertise. So for 6 months or so after my initial conversation with Chris we sent ideas and tracks back and forth, figuring out what kind of style we wanted the EP to have, before settling on the best time to record. 
December 1st 2021. Chris arrived to start work on the EP. It's a long process that we wanted to get right so we had reserved 2 weeks. The first week was focussed on getting the songs practically finished before we even stepped foot into the recording studio. As Chris says, the more time you spend messing about in the studio with an unfinished song, the more of your own money is wasted. With a mini set up we gave each of the 4 songs it's individual sound and laid down guide vocals to transfer over when we went in to record. This was possibly the most interesting part of the experience as Chris had an abundance of knowledge to share as we bounced ideas off each other. Songwriting is where my passion lies so when you get into the groove of putting down these ideas; a funky bassline? No try something else, a soft melodic string section? that hit the nail on its head. That's where I thrive. As I'm only starting my career in comparison, it was fascinating to see Chris' suggestions and to learn what worked and didn't work. 
So, five days later we went into the studio to start work on laying down the tracks. There isn't a huge amount to say about recording as you often work one song at a time and play around with it when it feels necessary. A lot of studio time is recording multiple takes and listening back to the best bits and redoing it until you get the perfect track. It's usually not until halfway through you're time that you begin to hear it all coming together. This is where I had to learn to put my faith in Chris as a producer and engineer. Some of the most exciting parts are when you get session musicians in. We were lucky enough to get fantastic support from backing vocalists Moray and Rosie, and violinist Paul. It was great to see their thoughts on the tracks as well as their individual contributions to the overall record. By the time we had finished all tracks we were actually slightly ahead of schedule and in need of a well deserved break. All to do now was to mix and master the tracks. Chris sent through the finished versions just before Christmas which was a really exciting time but now was the hard part as I had to wait to release them. 
It can be difficult when you finish something as new and exciting as this because all you want to do is share it but it's not that simple. You need to make time to create promotion around the release, make cover art for online sites, research the sites to promote the EP and then contact radio and magazines outlets. All in all, it can take anywhere between 2 to 6 months, even a year! As a musician the work got a little tedious at times but with the help of: local photographer Richard; my friend Stef who helped with design work; and other contacts who provided advice and support, by the end of February it was full steam ahead. 'She Is' the first single from the EP was announced for release on the 1st of March. 'She Is' had its debut play on Nova FM Radio on the 24th of February, my first radio play in over 2 years. It's a bit of surreal experience hearing your own music on the radio but also incredibly exciting. 
On Sunday the 27th of February, I officially announced my debut EP 'From the Stars Above' which will be released on the 31st of March. Later that day I also had an interview on Bishop FM talking about the EP and the process behind it. It's been a long journey up to this point but completely worth it as I have learned so much and met and worked with some fantastic people. I am ecstatic to announce new music that I'm incredibly proud of and can't wait to share it. As my first time recording an EP I couldn't have had a better experience. Thank you to everyone who helped along the journey; Dave, Chris, Tom, Moray, Paul, Rosie, Richard, Stef and my family as well as everyone who has supported me so far. I look forward to the 31st and I will be hyping it up to the last moment. 
You can listen to 'She Is' on all major platforms now. You can pre-save 'From the Stars Above' at https://distrokid.com/hyperfollow/samnix/from-the-stars-above