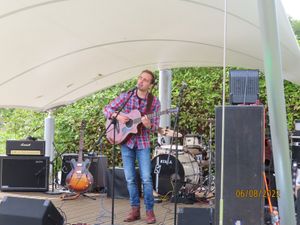 2022 is coming to a close in a couple months and so my gig diary is winding down. It has been absolutely packed this year as live music came back with a vengeance after the UK lockdowns. I've had some brilliant gigs in the last 8 months, including opening for famous cult artists Eddie and the Hotrods and John Otway, my first ever stage appearance at the Independent Sunderland and playing live in store at HMV Newcastle. So, with the prospect of a new year starting soon and for those of you who may want to get into gigging yourself, I thought I'd share how I prepare and get the most out of a performance. 
Before I get into the preparation, I wanted to share some tips on how to get your first gigs. The best way I have found is start by going to local open mics for experience and networking. This is a great way to get used to an audience but also to pick up any contacts who can recommend venues to you. Booking agents can be useful but when you're starting out, they are not the best way forward. You're better off contacting venues yourself but remember to always be polite. Most venues are getting contacted by plenty of other musicians daily and a nice demeanour goes a long way. If you don't get a response straight away, don't worry. Venues have lots of enquiries to get through so follow up in around a week's time and they will usually get back to you when they can. However, don't pester as this can be a deterrent. 
So, you've booked the gig, now how do you go about preparing? Your number one priority is to practice your setlist. Most bars usually want 2x45 minute sets, but you should always clarify as it can differ venue to venue. A song will cover around 2-4 minutes, so a set tends to be made up of around 12 to 20 songs. A little tip to remember is that when up on stage your adrenaline is running so you're more than likely to play a track a bit faster than in rehearsal. Try and account for that by having a surplus of 5 or 6 extra songs in case you need them. 
Having these songs committed to memory is important as it looks more professional but also lets you interact with what is around and not looking down at a song sheet all the time. The practice time it takes you to memorise 30 songs should be long enough to ensure they all sound great as well. When ordering the setlist think ahead about what an audience might like. They often like an upbeat song to kick things off then slowly build up to bigger songs toward the end. Also have a mix of things. I like to shake my sets up with different subject matters and tempos to keep the audience interested. 
Your second priority is to make sure you have all the equipment you need. Check with a venue to see what they have and if they can't provide what you need make sure you have a suitable PA, instrument/s, microphones, leads and stands. The last thing you want is turning up unequipped or having it break mid performance. For smaller pieces of equipment such as guitar capos, batteries, strings and leads, I always make sure to carry spare as these are the things most likely to go wrong or to be forgotten. Before you leave for a gig make a checklist of every bit of equipment and tick it off once you have packed and checked all the bags. It may sound like overkill but trust me it's a pain in the neck travelling 50 miles to find out you left all your picks at home. 
Once you turn up at the venue and meet the member of staff ask any questions you need to, i.e. where would they like you to play (if it is a bar or pub, they might not have an allocated stage). Most staff will be helpful if you reciprocate and it builds up a good relationship between artist and venue. Plus, after you've played, they're more than likely to want you back and recommend you to others. I always arrive half an hour early which leaves me plenty of time to set up. Depending on your PA you may need extra, try to work it out accordingly. 
I open a set straight off without any talking to grab people's attention, but you may feel more comfortable giving yourself an introduction. It's important to have a bit of interaction between songs so the audience is given breaks and gets more information on yourself and your music. You may have people come up to talk or request songs so be prepared and try to have a bit of flexibility in your set. This applies to how the room feels as well. Not every audience is going to be receptive but do your best to bring something out of them. This might involve swapping songs around from their normal order so be prepared to make changes. 
Even with all your effort not every live performance is going to go great. You could mess up accidentally or the audience may just not be engaging. Don't take it to heart because there's always another chance round the corner. I have had my fair share of bad gigs and I have heard plenty of comedians talk about how the same material can work in one venue but not another - the same can apply to music. Take it in your stride put it down to experience and focus on what went well and where to improve next time. 
The key to having a well prepared and enjoyable performance is professionalism. You should treat it like you would any job. Take pride in what you do and make sure you know the ins and outs - lyrics, chords, how the PA system works. Those who work hard are often rewarded, though it is not easy. You may be rejected or passed over by venues and have difficult gigs, but it should never stop you doing what you enjoy. 
I hope this has helped any budding artists out there. As I know from experience it can be a strange field to navigate but keep going. If you would like to send me a message or follow what I do you can find me on Instagram, Twitter and Facebook (@samnixmusic).