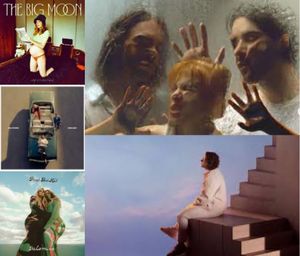 2022 was an incredible year for those under the radar artists who seemingly came out of nowhere with exceptional albums. To kick off 2023 I thought I would share with you some of my favourite albums I discovered last year that you might have missed, as well as two you should watch out for next year. 
You may have missed… 
Wild Rivers - Sidelines 
 If you have been following me for some time you will know I have a deep love for Americana, Indie Folk, and anything in the surrounding genres. It's my personal niche. Early last year my attention was brought to Wild Rivers, a trio from Ontario who sum up everything I love about this corner of the musical landscape. The songs play on timeless messages such as a stubborn hearted lover and the winds of change, while bringing new layers to the genre through modified electric guitar riffs, ambient sounds, and modern percussion. It's a dreamy, laid-back winding road that takes you on a journey, one of my favourite ways to construct an album. Quickly added to my top 10 artists, I eagerly await their next release. 
Favourite Tracks; Amsterdam, Bedrock, Stubborn Heart 
The Big Moon - Here Is Everything 
In 2021 I started playlisting on Spotify my top 50 Favourite songs that I found during the year. The playlist would shift and change but it gave me the opportunity to discover artists I might never have found before, one of which being The Big Moon. The name initially caught my eye but once I began listening to the tracks, I was convinced what a brilliant album their latest release was. A husky burst of indie rock driven by snare heavy drums and a lightly distorted guitar. With obscure and inquisitive lyrics as an invitation to thought, the album feels perfect for sitting down on a dark hazy evening with a drink and a book. At points it also feels reminiscent of some of the great female songwriters of our time, including Joni Mitchell and Patti Smith. Throughout 2023 I'll be going back through their previous releases to see what delights I may have missed in the past. 
Favourite Tracks; Trouble, My Very Best, Two Lines 
First Aid Kit - Palomino 
I bought First Aid Kit's new album by chance after seeing it in the local record store and having vague memories of enjoying their previous work, but I was not ready when I put it on. Immediately you're thrown into the thundering 'Out of my Head' opening with the piercing yet effervescent vocals of Klara Soderberg and evolving into the bass driven roaring chorus. Moving into the heart pounding unrequited love song 'Angel' it's possibly the best start to an album I have heard in the last 20 years. The album touches on more folk/country inspired tracks such as Wild Horses II and Nobody Knows. It really has something for everyone and no wonder many are saying it's their album of the year. It's a must buy if you are looking to start the new year with fresh music. 
Favourite Tracks: Angel, A Feeling That Never Came, Palomino 
You might be interest in…
Paramore - This Is Why 
Paramore exploded back into the music scene in 2022 with a song people have called the track of the year, ahead of their album of the same name coming up in February. Paramore continue to impress me, evolving their sound with the times, while staying one step ahead and yet retaining that catchy punch they have always carried. Their 2013 self-titled album is one of my absolute favourites and if the first single of the upcoming release is anything to go by it's going to be spectacular. 
Lewis Capaldi - Broken By Desire To Be Heavenly Sent 
Capaldi grew to be a British pop culture figurehead with his natural persona and raw untameable voice in 2019 with a great debut album 'Divinely uninspired to a hellish extent'. At least four of the songs could have been the headline tracks for a whole album in their own right. His sophomore release is highly anticipated with the first single 'Forget Me' having already stormed the charts. However, I will look forward to whatever he produces with a great lyrical nuance and knack for having the perfectly timed intonation. 
Let me know if you check out any of these suggestions, you can contact me via instagram @samnixmusic. I try to cover something for everyone and I am always open to recommendations myself. I also have a Spotify playlist of my favourite tracks of 2022 which includes tracks from the mentioned albums as well a bunch of other hidden (and unhidden) gems. You can check it out here - https://open.spotify.com/playlist/3ZHfsmqvQsWgQGCZW7ZsrA