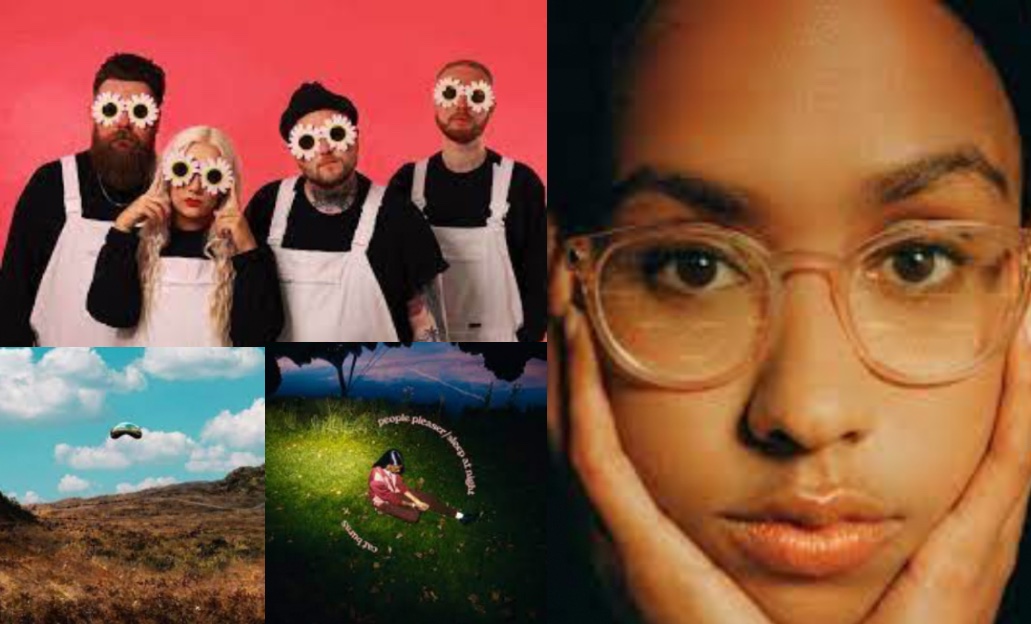 I Recommend is back and by wow was it tough to narrow down all my suggestions to just 4 artists! I'm sure in 6 months' time it'll be even harder in time for the next edition. So, in the first bi-annual edition (or whenever I feel it's about the right time) I have the No.1 album from the Lottery Winners, singles from Noah Floersch and Cat Burns and a new favourite of mine Jensen McRae…
The Lottery Winners - Anxiety Replacement Therapy (Album) 
I shockingly only first discovered the Lottery Winners at a Frank Turner gig back in January and was absolutely blown away with their back catalogue of songs. Infectious, funny, and hearty are three words I would use to describe not only the band but their songs. This is never more present in A.R.T. Their latest album was a shot at number one, and it hit the spot perfectly, gaining the title earlier this year. I'm not sure I've heard another album from 2023 yet that deserves it as much as TLW. From blasts of sonic energy like Burning House to the reflective and important Letter to Myself, this album has everything and capitalises on each band members best elements. Pulling in a few famous friends, including Sean Ryder and Boy George this album is one of ages and it'd be a crime not to give it at least one listen. 
Cat Burns - People Pleaser, Live More and Love More, You Don't Love Me Anymore (Singles)
Cat Burns is a British singer/songwriter that has made her way up the charts and into my playlists across the past 2 years or so, and with good reason. Her blend of guitar-led indie music and gospel elements has created a beautiful little niche in the UK soundscape. Her vocal and lyrics also carry an honesty that reminds me of one of my all-time favourite artists, Tracy Chapman. It's possibly due to this honesty that gives her songs such an appealing edge. In particular, People Pleaser has such a hook and recognition in its lyrical themes it'll have you singing along in no time. I imagine we'll hear some really great music come out of Burns in the future based upon these 3 latest releases. 
Noah Floersch - Ghost of Chicago (Single) 
Usually once a year there'll be one song that particularly stands out to me and just makes an impression like no others do. Last year it was William Prince's Sing Me a Song, and this year (so far) it's been Noah Floersch's Ghost of Chicago. From the off time opening, to the muted trumpet, this song just has such a wondrous, smiling sound. Having previously listened through passing to Floersch, his indie, sometimes jazz inspired, style really lends itself to fans of Dodie, Tom Rosenthal, or Orla Gartland so if any of those names are on your regular playlist, give him a try. 
Jensen McRae - Dead Girl Walking, My Ego Dies at The End, Machines (Singles/Album) 
There's a specific genre and style from the early 2000's that I have a real soft spot for, and Jensen McRae's sound harks back to that unique period where an acoustic, melodic yet prose style of songwriting gained traction. To me it was notably made recognisable by the likes of Norah Jones, Jack Johnson, and John Mayer and now McRae has reignited that sound with a fresh and relevant twist. McRae's vocals and lyrics are so rich with thought it's irresistible to the ear and cover emotional subjects such as mental health. The three tracks I picked stand out as they are ones I instantly attuned to, but her whole debut album Are You Happy Now? has something to offer. She has an excellent production behind her, particularly present in My Ego Dies at The End with its recurring snare roll motif that caps off the breaks in lyrics perfectly. If you're looking for a fresh, folky and thoughtful new artist to attach to, McRae is a revelation. I can't believe I hadn't discovered her before. 
Let me know if you check out any of these suggestions.  You can contact me via Instagram @samnixmusic. I try to cover something for everyone, and I am always open to recommendations myself. I also have a Spotify playlist of my favourite tracks in 2023, including some of the tracks suggested here, as well a bunch of other hidden (and unhidden) gems. You can check it out here - https://open.spotify.com/playlist/2ehvD6JF01cS30KLzPtBOS